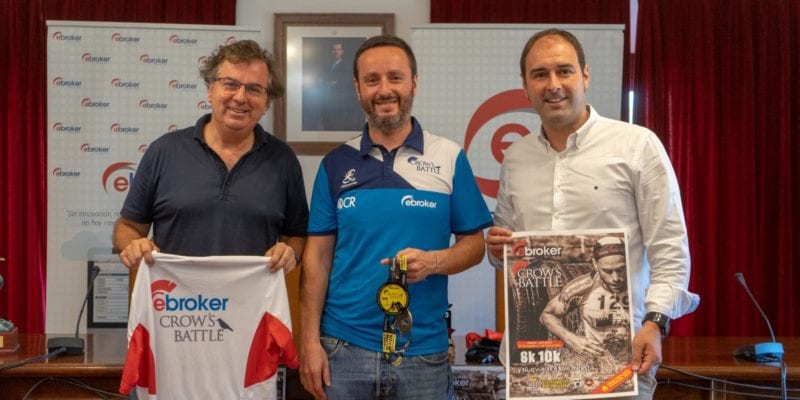 ebroker is once again the main sponsor of the ebroker Crow's Battle, a benchmark in obstacle courses at national and European level.
Last Wednesday, August 7 was presented in Pravia, Asturias, the fifth edition of the ebroker Crow's Battle, scoring test for the European and Spanish championships of obstacle courses that has one more year with ebroker as the main sponsor.
In the press conference held at the town hall of Pravia, Higinio Iglesias, CEO of ebroker, David Álvarez, mayor of Pravia and Guzmán Menéndez participated by the organization.
Higinio Iglesias stressed that "this sports discipline shares deep-rooted values ​​with those of our company, such as teamwork, improvement, companionship and effort." As in past editions, the technology company will participate in the ebroker Crow's Battle with the ebrokerTeam, a team made up this time by seven members who will compete in different categories and who "represent the overcoming of obstacles that insurance brokers face on a daily basis. their business activity and the technological solutions that we develop to eliminate them ".
David Álvarez, Mayor of Pravia thanked the efforts of the organization and the technology company, highlighting "The importance of public-private collaboration to bring large-scale events to Pravia, highlighting the efforts of the sponsors, especially ebroker, and their commitment with the Pravian society and the organization of sporting events of an international nature such as the ebroker Crow's Battle ".
For his part, Guzmán Menéndez, announced among the main novelties of this year that "the competition is distributed in two days due to the influx of
participants, which is expected where the 800 registered with the presence of athletes from all over Spain and Portugal ", and also thanked Ebroker for his involvement as a main sponsor for another year.
The ebroker Crow's Battle 2019 will have a route of 6, 8 or 10 km depending on the category, where more than 30 obstacles will be located distributed in the center of the Village and its surroundings. The competition begins on Saturday, August 31 with the Elite and Popular category individual batches. On Sunday, September 1, it is time to participate in pairs and teams, closing activities at 14:00 p.m. with the awards ceremony and podium.