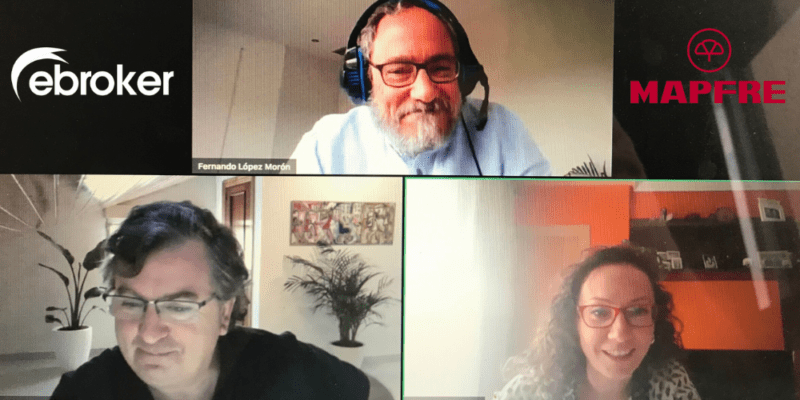 200 members of the commercial and technical team of the insurer participate in a connectivity seminar to get closer to the reality and capabilities of ebroker.
Fernando López, Director of Development of the Canal de Corredores de MAPFRE, and Higinio Iglesias, CEO of ebroker, made the introduction to the connectivity webinar seminar that on Wednesday 7th brought together 200 members of the insurer's commercial organization in a working day in which the ebroker commercial team presented the attendees the generalities of the different functional areas that the technological platform makes available to insurance brokers, with special attention to the operation and configuration of the connectivity processes available to MAPFRE, both in the field of information exchange operations through of the EIAC standard, as in the commercial multi-tarification system.
During the event, the managers of MAPFRE and ebroker discussed important future plans around the multitariification system, as well as the confirmation of the imminent entry into service of the insurer's new functional connectivity developments with significant product improvements. and operations in the automobile industry, while showing their total commitment and commitment to the implementation and evolution of EIAC.
"It is very important that MAPFRE's commercial network knows ebroker functionally and that we foster great harmony between our respective teams, since this is in benefit of a common objective that we share and which is none other than offering the best service and experience to brokers to make their activity more efficient and productive. " Higinio Iglesias, CEO of ebroker said.
For his part, Fernando López emphasized "the need to contribute to the digital capabilities of the corridor. This session is a great opportunity for the Network of MAPFRE Offices exclusive to the Corredores Channel to reinforce the knowledge on the possibilities provided by the corridor's technological platform and can support it in improving its productivity through connectivity with the Company. "