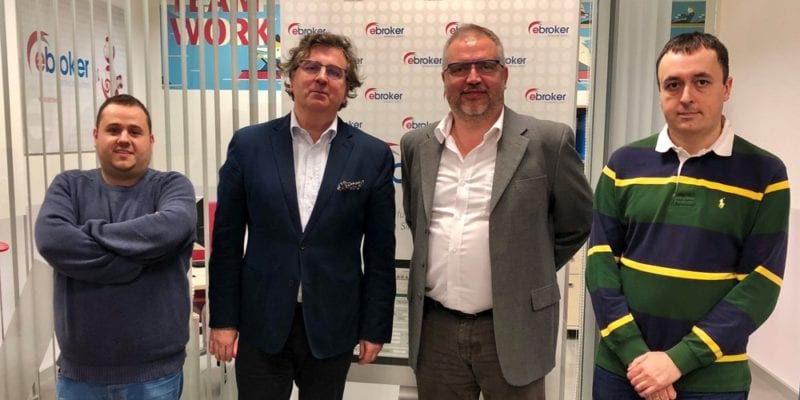 Security and digital certification for compliance with the RGPD, main premise at the meeting.
The past 24 of April we have received in Ebroker Center to Sisco Sapena, president and CEO of Lleida.net in a work day that has been an important boost to the technological cooperation of both entities. During the session, the current and new collaboration projects in the field of security and digital certification have been addressed.
With the aim of adapting our platform for mediation to GDPR Compulsory as of May 25, ebroker collaborates closely with Lleida.net, a leading telecommunications company in electronic certification and notification that provides security, trust, efficiency and profitability to communications both on the platform itself and on those brokers insurance companies that are users, helping them to adapt to the imminent European regulations.
Lleida.net, a partner with whom ebroker has maintained a technological relationship for 15 years, is a world reference in the field of electronic communications. The company, which debuted on the Alternative Stock Market in October 2015, has agreements with more than 1.500 companies present in 150 countries, which it provides services from its 16 international locations. Lleida.net services are used mainly by large companies, SMEs and public administrations.
Higinio Iglesias, CEO of ebroker, "For ebroker, it is essential to have a technological partner such as Lleida.net that shares challenges and projects in driving the digital transformation of the insurance broker, always strengthening the security and integrity of sensitive information before the demanding ones and imminent regulatory requirements. "
Sisco Sapena, president and CEO of Lleida.net, "The obligatory application of the new General Regulation of Data Protection supposes an effort of adaptation to all the companies, but especially to the SMEs and professionals that operate in the insurance sector, in which It is key to guarantee the lawful use of the data and the generation of trust. For our expertise in this field, we are a strategic partner for ebroker and its partners "